I've recently had the pleasure of reading
Power Ballads
, a collection of short stories by Will Boast. I'm very excited to welcome Will to talk to us today about his new collection—now available—and life in general. Stop by on Friday for my review of the collection. But first, a brief introduction.
Will Boast was born in England and grew up in Ireland and Wisconsin. His story collection,
Power Ballads
, won the 2011 Iowa Short Fiction Award. His fiction has appeared in
Best New American Voices 2009, Narrative, Glimmer Train, The Southern Review,
The American Scholar, and Five Points,
among other publications
.
From 2008-2010, he was a Stegner Fellow in fiction at Stanford University, and, this fall, will be a Charles Pick Fellow at the University of East Anglia in the UK.
So, without further ado, I'd like to welcome Will Boast.
Rosie:
Congratulations on winning the Iowa Short Fiction Award. Can you tell us about the process of your being considered and how you found out about the award?
WB:
Thanks! The Iowa Short Fiction Award has been around for about twenty-five years and, along with the Flannery O'Connor Award, is considered one of the most prominent book contests for story collections. In my experience, readers of literary fiction love short stories, but the publishing world, mostly based in New York, perceives them as a tough sell to a larger audience. (Mention your story collection around an editor or agent and watch how fast their eyes glaze over....) My agent felt that trying to publish my stories wouldn't be a good first step for me, so I decided to take matters into my own hands. I got lucky, because the Iowa Award was the very first place I sent my manuscript! The nice thing about the Iowa Award is that it's read blind and is juried and judged by writers. So, their primary concern, really their only concern, is the manuscript itself and whether it's a good and satisfying read.
Rosie:
Which authors would you say have most influenced your writing? In what ways?
WB:
Tough question! A few years ago I discovered (along with all the rest of the American reading public!) Roberto Bolano's novels and stories. I haven't tried to emulate him--because mimicking such a distinctive writer is probably a bad idea--but I love the way he creates an alternate world for himself in which all of his fiction takes place. His world is populated with writers and poets (mostly failed, failing, and distinctly minor writers and poets), some real, many more invented. So maybe I borrowed that approach for Power Ballads, but reduced the size of the world to something more like Sherwood Anderson's
Winesburg, Ohio
.
Rosie:
Your short stories focus on different aspects of the life of musicians. What made you want to write about the music industry?
WB:
I spent a couple years in Chicago playing music, going to see shows, working with musicians, and drinking with musicians. In college, I played a lot of music (too much, really), and when I moved to San Francisco, I became involved with the music scene here as well. The musicians I've met have all been dreamers, and their desires and obsessions almost always put them in compromised positions--financially, artistically, romantically--even the ones who have ended up having a lot of success. I knew that, for the most part, I didn't want to write about rock stars, because I find that story pretty boring. The musicians I most admired were the obscure and deeply uncool ones, and I wanted to write a sort of fan letter to them. That said, I don't really think of
Power Ballads
as ultimately being about music or musicians. Music is maybe just the way, the entry point, to address other things.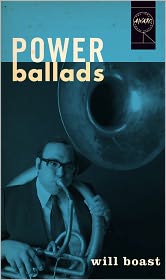 Rosie:
Several of the stories in Power Ballads revolve around two characters, Tim and Kate. Have you ever consider expanding their story/stories into something longer? More of a novel format? In fact, 7 of the 10 stories directly or indirectly revolve around Tim and or Kate's lives. Why did you decide to include these stories in this collection, instead of focusing more or less on Tim and Kate?
WB:
I think that
Power Ballads
is that longer thing! I'd been thinking about writing stories about journeyman musicians for a while and had a couple stories that more or less fit that bill kicking around. It was somewhat accidental that Tim found his way into as many stories as he did, and Kate came in even later. It seems like a story often has a life of its own, and you just end up following whatever thing seems the most vital or interesting or fun at the time. That said, both Tim and Kate appeared in "The Bridge," one of the oldest stories in the book. Something about Tim as a narrator continue to resonate for me, and several more stories revolving around his obsessions and short-sightedness ended up coming out in fairly quick succession.
Rosie:
What other kinds of projects do you have lined up?
WB:
I'm working on a novel and a memoir. I'm also trying to make a start in narrative journalism.
Rosie:
Where else can we read your work?
WB:
There's a list of publications and links to online stuff at
willboast.com
. Recently, I've had stories out in the
American Scholar
, the
Literarian
,
Narrative
, and
ZZYZZVA
.
Rosie:
And a random question, just to keep you on your toes: If you could be any insect, which one would you be and why?
WB:
Not being the most insect-friendly of people and despite the fact that getting stung is a bummer, I'd have to say a honeybee. No other insect goes to such obsessive extremes of behavior--forming a colony, building a hive, making honey, serving the queen. As a bee, you'd know your place in the world, and you'd get to feel useful.
Thanks so much, Will, for joining us today. If you're interested in Will Boast's book, again be sure to stop by on Friday for a review of
Power Ballads
or click on the link below.