Review of Power Ballads by Will Boast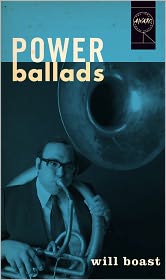 From Goodreads:
Real musicians don't sign autographs, date models, or fly in private jets. They spend their lives in practice rooms and basement clubs or toiling in the obscurity of coffee-shop gigs, casino jobs, and the European festival circuit. The ten linked stories in Power Ballads are devoted to this unheard virtuoso: the working musician. From the wings of sold-out arenas to hip-hop studios to polka bars, these stories are born out of a nocturnal world where music is often simply work, but also where it can, in rare moments, become a source of grace and transcendence, speaking about the things we never seem to say to each other. A skilled but snobby jazz drummer joins a costumed heavy metal band to pay his rent. A country singer tries to turn her brutal past into a successful career. A vengeful rock critic reenters the life of an emerging singer-songwriter, bent on wreaking havoc. The characters in Power Ballads—aging head-bangers, jobbers, techno DJs, groupies, and the occasional rock star (and those who have to live with them)—need music to survive, yet find themselves lost when the last note is played, the lights go up, and it's time to return to regular life. By turns melancholy and hilarious, Power Ballads is not only a deeply felt look at the lives of musicians but also an exploration of the secret music that plays inside us all.
Boast's ability to wield these narratives is awe-inspiring. Beginning with a preteen tuba player who wants to polka, through rock stars and their loved ones, through choir masters and rapping teens, each story echos with musical truth. These stories take the music industry and make it universal, accessible.
Several of the stories have common characters, revolving around Tim, the drummer trying to make it in the Chicago music sphere, and his girlfriend Kate. They way these short stories are independent and yet interwoven provides almost a novel-like quality. This includes 6 of the 10 stories. A 7th is tangentially related, similar to the stories interwoven in
Egan's A Visit from the Goon Squad
. Admittedly, I had read the final story "Coda" in
Narrative Magazine
several months ago. While I enjoyed it then, I found it much richer and a more fulfilling read this time, prefaced by several other stories about the same characters, giving more depth to the emotions therein. The emotions that build over the course of the stories is also quite powerful. After "The Bridge", I had to stop reading. Fiction almost never makes me cry, but this story was one exception.
The other stories show other aspects of the music industry. Perhaps my favorite of these, "Sidemen", examines the life of a touring rock musician's wife and the difficulties with that lifestyle. The sorrow Boast captures in this story resonate with me, someone who has no connection with the music industry. Yet the feelings of loneliness are common and approachable.
I love all of the stories in this collection. Congratulations to Will Boast for winning the Iowa Short Fiction Award. From this selection of his work, it is clear he deserved it.
Recommendation: Read this now!