Welcome to today's post on the A-to-Z Blogging Challenge. My challenge, as I have chosen to accept it, is thus: I have asked on my Facebook and Twitter accounts for people to contribute random words beginning with today's letter. From Random.org, I have selected one of these words, and will below challenge myself to connect said word to writing.
For the letter Z, I received 36 suggestions. Random.org selected number 18: zippy.
Zippy
It's been a long month. We've zipped through several different topics together, some of which related to writing more than others. And now we've come to the last one.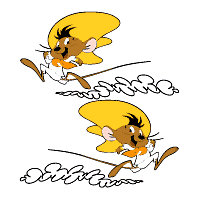 Zippy.
I used to be a pantser. I wrote three novels as a pantser. I know it works for some people, but it didn't work for me. I didn't pay any regard to the tempo of the scenes, and make sure they continued with a decent pace while raising the tension each time.
Now I plot everything, each scene throughout the story. I focus on the tempo of every one. I want them all to be zippy, high paced (as much as possible, anyway). I want the reader to be unable to put the story down. I can't say I've succeeded, but I'm still trying.
How do you keep your stories feeling zippy? Are you a pantser or a plotter?